Arvida Good Friends at Level 2 - what to expect
07 September 2021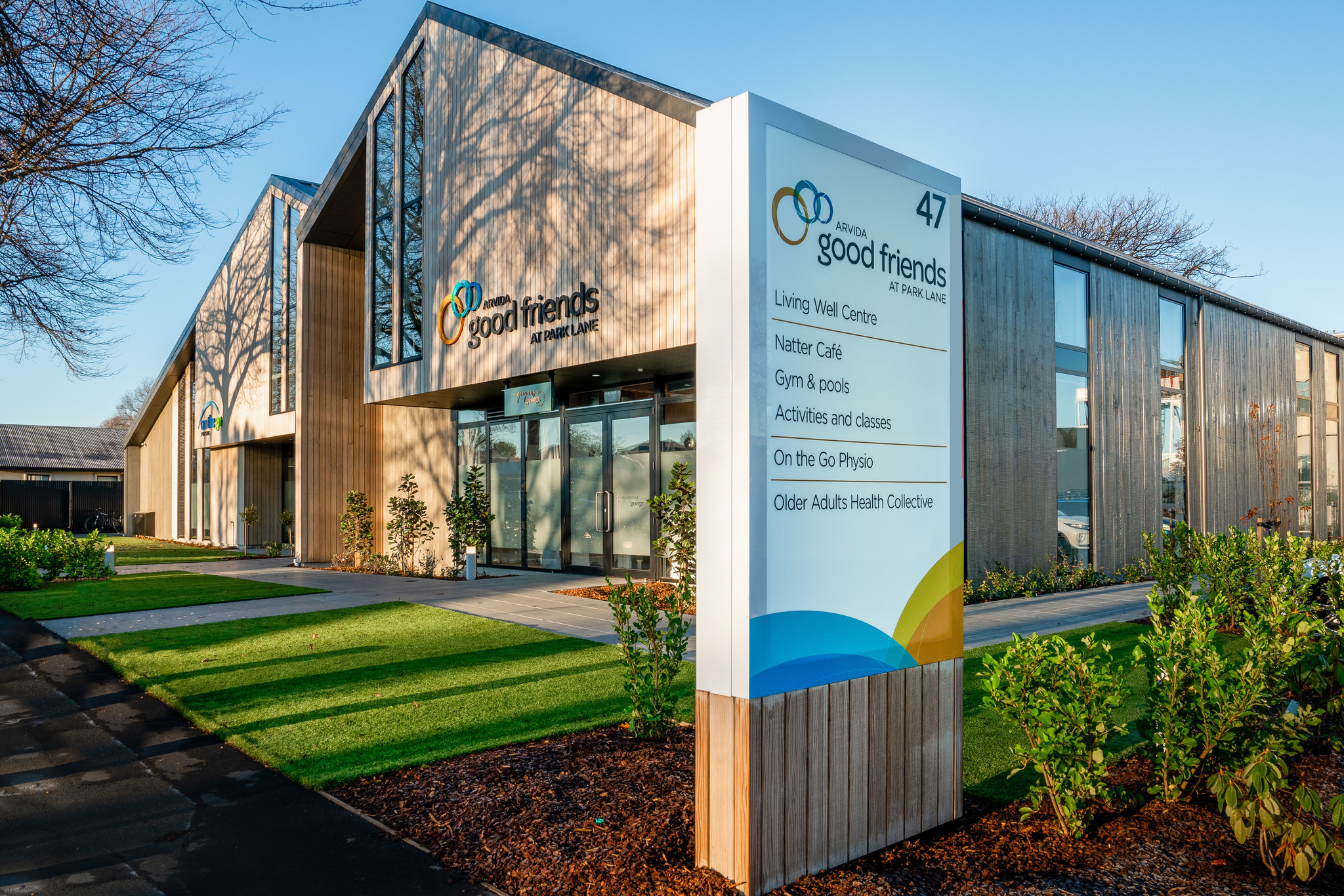 Arvida Good Friends at Park Lane and Arvida Good Friends Go are open again at Alert Level 2. We are so excited to see you again.
We'll be following Government guidelines and it means things will be a bit different. Here's what to expect.
The most important messages are:
If you want to come to the gym or pool, you will need to book in advance because we need to limit numbers
We'll be wearing masks and we support you wearing masks too.
If you feel unwell, please stay at home. We will be here to welcome you when you are well again.
THE COMMUNITY CENTRE
Contact tracing is now mandatory for all businesses like ours. You will need you to either scan our QR code with your smart phone, or manually add your details to our contact register.
To ensure that we keep accurate tracing records – only the lobby entrance doors will be open into Good Friends (the main glass sliding doors). The doors into Natter and Gorgeous George will be closed.
Our team will be wearing masks, please wear yours too – the only exception for this is when you are physically exercising in the gym or a fitness class.
To keep yourself and our team safe, please maintain physical distance from others.
Our team will be ensuring the cleanliness of the centre, especially in our high contact areas – this will mean from time to time you might need to wait for facilities to become available.
THE GYM AND POOL
To access the gym or the pool, you must book a timeslot online or with our reception team: https://book.goodfriends.co.nz/v2/ or 0800 20 41 20 . These timeslots are available on the hour every hour and run for 45 minutes. This is to ensure that we keep everyone safe through physical distancing and that we have time to properly sanitise all equipment in between each group of people.
Using the gym means that you agree to sanitise each piece of equipment after you have used it. You will also be required to use hand sanitiser on arrival.
Please remember your fob to swipe into the gym and pool area. If you forget your fob, you'll need to write your details down in the gym before you commence your workout.
The spa pool will operate on a 'one in, one out' policy with the exception of those who live in the same home, who may use the spa together.
CLASSES
All participants must have booked and registered to attend their chosen class and must check in with the team on the Good Friends reception to receive their class token.
Please don't go straight to your class without checking in with the reception team.
Most classes will continue to run with an emphasis on 2 metre (minimum) physical distancing within the class.
All classes will run for 45 minutes to allow our team time to sanitise the room for the next class.
Aquarobics is not available as we are unable to meet physical distancing requirements in the pool and changing rooms. We will closely monitor the alert level obligations so that we can bring this class back as soon possible.
GORGEOUS GEORGE HAIR, NAILS AND BEAUTY
The Gorgeous George doors will be closed to allow us to meet our contact tracing obligations. Please enter through the main lobby doors and scan in.
Please wait in the Natter lounge for your appointment, our team will pop out and welcome you in. This is to ensure that we are able to manage our physical distancing requirements.
Our team will wear masks (as a minimum) during your service, please wear yours too.
During Alert Level 2, we are unable to offer magazines or reading material.
Rest assured, we have increased sanitisation throughout the salon to protect you and our team through this time.
NATTER CAFÉ AND MICROBAKERY
Please wait to be seated as we need to ensure that each table is thoroughly sanitised after each use.
Please wear your mask in the café unless you are eating or drinking.
Please maintain at least 2 metres between your dining group and the next. (No hugs please!)
One person from your table will need to place your order and make payment at the counter.
You will notice markings on the floor at the counter, please use these to help us keep you distanced.
GOOD FRIENDS GO RIDESHARE TRANSPORT
‍If you're healthy and do not have cold, flu or COVID-19 symptoms, you can use taxis and ride-share services to travel.
Apart from the driver, only travel with people you know, for example friends and family.
Minimise the number of stops on the way to your destination.
Drivers of taxis and ride-share services legally must wear a face covering and passengers are strongly encouraged to wear a face covering too.
Drivers legally must display QR code posters to help you keep track of where you've been. We recommend you use the NZ COVID Tracer app to do this, or another way that works for you.
It's a lot to take in! But, we've been through this before and we can do it again. We will be doing everything we can to make your experience at the centre as normal as it usually is!
We have missed you all and are really looking forward to welcoming you back.
Contact us on 0800 20 41 20 if you have any questions and keep an eye on our Facebook account.