Fresh summer recipes
01 February 2022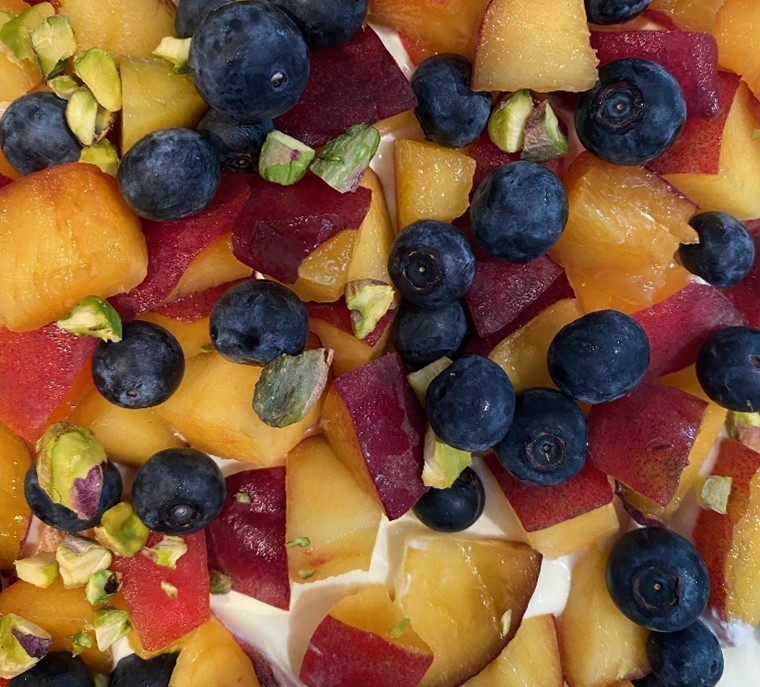 As our gardens bloom, fresh new recipes bring fun, colour and nutrients to your diet.

Whether you are cooking for yourself or for guests, make the most of summer vegetables and fruit with these recipes from Arvida's National Dietician.
Couscous Salad
(serves 1)
Peas are packed full of many nutrients, including but not limited to, protein and fibre. Both fibre and protein make peas a satisfying component of any meal which also aid in blood sugar management, digestive health, and heart health.
Zucchini is rich in many antioxidants and nutrients including, but not limited to, vitamin A and C. The presence of vitamin A and vitamin C make zucchini great for your heart, digestive system, immune system, and vision.
INGREDIENTS

1 cup couscous
¾ cup fresh peas
1 zucchini (chopped)
1 Tbsp olive oil.
¼ cup chopped mint
¼ cup chopped parsley
3 Tbsp Greek yoghurt
1 Tbsp fresh lemon juice
Sliced roasted almonds
METHOD
Cook couscous as per package instructions. In a small pot, boil peas for 1 minute and then drain.
In a skillet, sauté chopped zucchini in olive oil until crisp tender.
Mix lemon juice and yoghurt together in a small bowl.
Mix all ingredients together in a large bowl and serve.


Blueberry & Nectarine Tart
(serves 6)
If you ask our National Dietitian the best thing about summer, she will always say the summer fruits!
Fruits are packed full of phytonutrients, allowing for guilt free sweet treats all summer long.
Blueberries are rich in a range of vitamins as well as antibiotics including anthocyanins. Anthocyanins are natural pigments that provide blueberries with their beautiful colour, and are linked to a range of health benefits, including heart health and the prevention of age-related macular degeneration.
Nectarines are an excellent source of vitamins A, vitamin C, potassium, and fibre. The inclusion of these vitamins and minerals makes nectarine beneficial for metabolism, digestion, control of blood glucose levels and heart health.
The recipe below has both blueberries and nectarines along with yoghurt for a protein and calcium fix. A delicious and nutritious recipe to enjoy with friends in the summer nights.
INGREDIENTS

Filling
¾ cup mascarpone
1 cup thick Greek style yoghurt
2 tbs sugar
125g blueberries
400g chopped nectarine
Chopped pistachios (optional)
Pastry
1.5 cups flour
1.5 Tbsp almond meal
1.5 Tbsp sugar
100g butter (softened)
1 large egg
¼ tsp salt
METHOD
Place flour, almond meal, sugar, butter, and salt in a food processor and whiz until resembles fine crumbs. Add egg and pulse until a smooth dough forms. Remove from food processor, roll into a ball, and wrap in plastic and chill for at least 30 minutes.
Grease a 22cm loose-bottomed tart tin. Take chilled pastry and roll on a lightly floured surface until ~0.5cm thick. Adjust the pastry to fit into the tart tin and trim excess, chill in tart tin for a further 30 minutes.
Pre-heat oven to 180 degrees Celsius
Remove chilled, rolled, pastry and cover with baking paper and then fill with pastry weights. Bake in oven for 15 minutes and then remove both baking paper and weights. Bake uncovered for a further 5 minutes or until golden.
Allow to cool completely.
In a bowl, combine mascarpone, yoghurt, and sugar. Spread into cooled pastry.
Top with blueberries, chopped nectarines and pistachios (if using)
TIP: feel free to get creative with toppings; for example, alternative fruit, addition of shaved chocolate etc.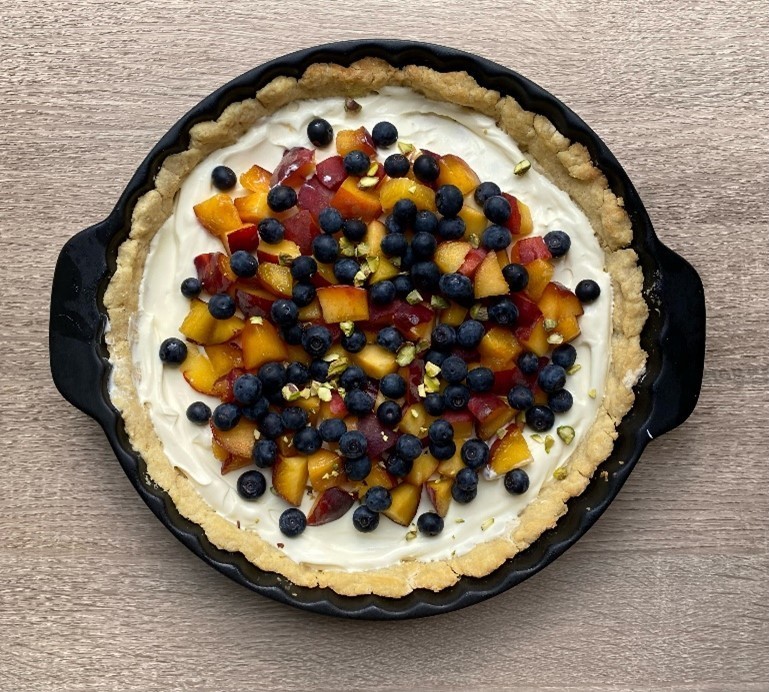 Impress your guests with this delicious Blueberry and Nectarine Tart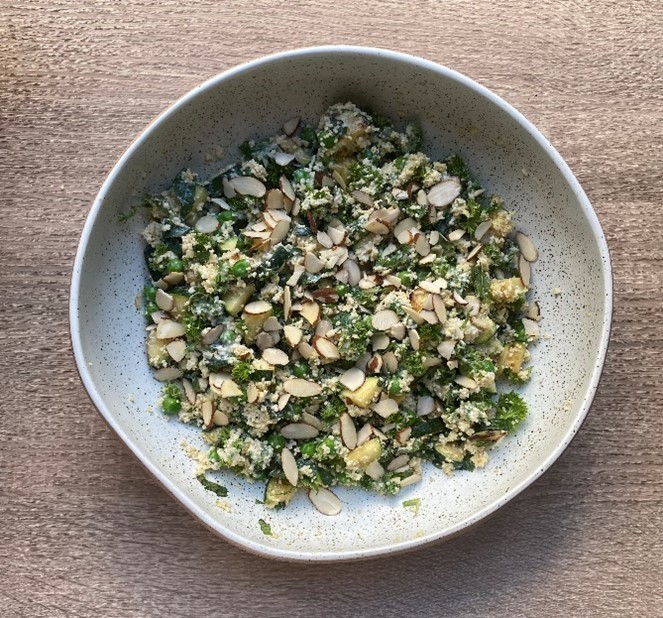 This couscous salad is a speedy and nutritious evening meal