Swiss-trained chef gives Natter café a delicious advantage
03 May 2021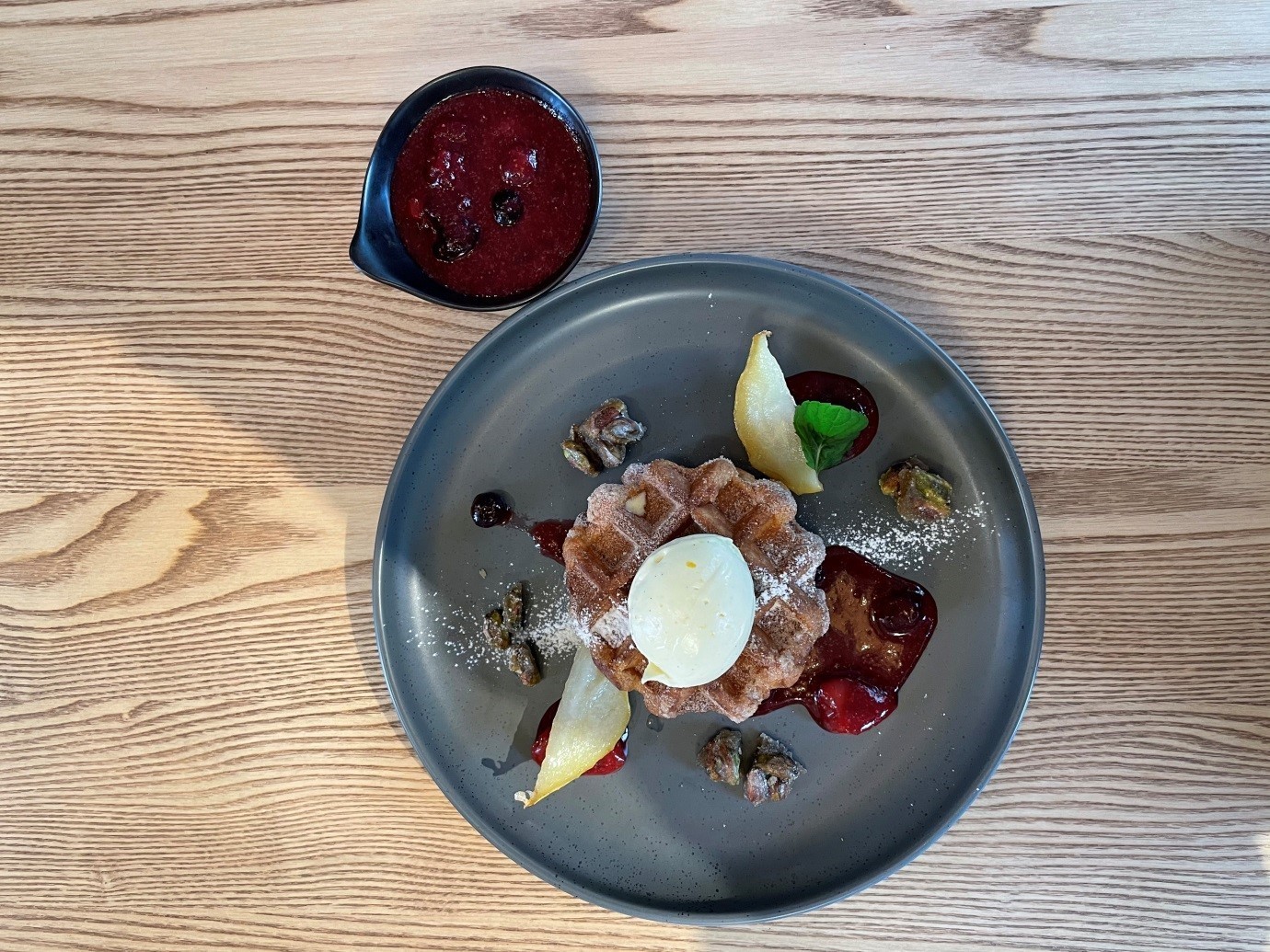 Enjoying Belgian waffles with lemon whipped cream, strawberry vanilla compote and candied pistachio nuts is like taking a mini-trip to Europe. That's because Natter Café & Microbakery at the Arvida Good Friends centre is operated by Swiss-Kiwi chef Josh Monaghan.
Josh arrived back in New Zealand as an escapee from Europe's Covid-19 crisis. He'd been working at an upmarket hotel in the Swiss mountain resort town of Davos when the pandemic brought the hotel's business to a sudden stop. Heading back to New Zealand was the natural thing to do, because Josh is half-Kiwi, half-Swiss.
"I did my chef training in Switzerland at Hotel Waldhaus in Zurich. Since my apprenticeship finished in 2003, I've been working in New Zealand, Australia and Switzerland. Returning to Christchurch is a way to bring all that I've learned back to New Zealand," says Josh.
Much of Josh's experience has been gained at the fine dining level of cheffing, so the dishes he's designed for Natter are full of flavour and finesse. He's also brought some of his personal history to the menu – the Bircher muesli at Natter is made to an old family recipe from Switzerland. Accompanying every dish at Natter is Arvida's focus on superior nutrition, so the food doesn't just taste wonderful, it's good for you too.
"While Natter is a smart-casual restaurant, I want eating here to feel like a treat. My menu focuses on seasonal, tasty, affordable dishes with options for gluten-free and vegan diets. The menu will be updated two or three times a year, to reflect changes in the weather and seasonal produce."
Josh's passion for the culinary arts is matched by a dedication to healthy living. He's into meditation, so has a calm approach to restaurant management that contributes to Natter's relaxing, no-stress ambience.
Seared sirloin steak served on creamy polenta with oven-baked vine tomato and roast balsamic mushrooms.
As a cornerstone business in the new Arvida Good Friends centre in Addington, Natter is open to the general public. The café is part of Arvida's innovative strategy of creating wellness hubs that serve older people living in surrounding neighbourhoods.
We reckon the wonderful baking smells that waft from the café will soon lure locals in to give the café a try. The bread used at Natter is baked on the premises using an advanced microbakery controlled with a smartphone app. Josh doesn't have to get up at 4am to bake, because the automatic equipment is programmed to get on with the job.
Natter Café & Microbakery is open from 8am to 4.30pm every day except Sunday.
Phone 03 595 6770